At Complete Smiles we are committed to providing dental health care solutions for life.
We have the experience and enthusiasm to cater for your every dental requirement. Whether you have missing teeth, dream of a whiter smile, desire a complete smile makeover or just require a routine check-up and clean; Complete Smiles can help you achieve and maintain excellent dental health.
Dr. Lahoud has a special interest in Cosmetic, Restorative and Implant Dentistry treatments. He regularly attends continuing education courses to bring world-class dental treatments and standards to Complete Smiles.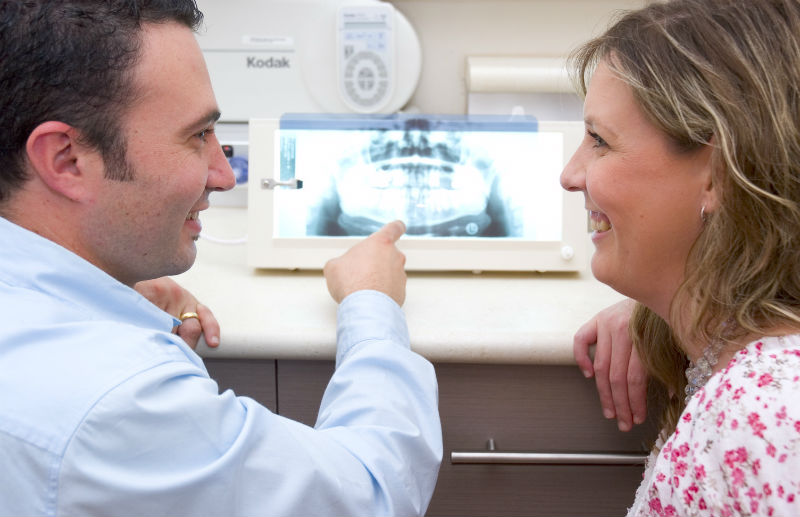 A beautiful, healthy smile is the very best investment you can make in yourself. Today many options are now available to improve your smile. For some the perfect smile is within grasp but something may not be quite right. Even the most subtle change in your smile can make a dramatic difference in the way you look and feel.
Using modern high strength ceramics and advanced bonding techniques you can now have a beautiful smile easily and comfortably. Many Cosmetic Dentistry treatments may be completed within just one appointment. No stress or downtime – just a new beautiful smile.
ZOOM! Teeth Whitening
Veneers
Crowns
Bridgework
White Fillings
Smile Makeovers
Dental Implants
At Complete Smiles we understand that dentistry isn't just about improving the appearance of your smile – it's also about function. There is no point improving your smile only to have this require constant attention due to breakage or discomfort. We will always carefully consider the full effect of each treatment that we complete.
Do you want a bright, white smile in a flash? Look no further than Teeth Whitening. At Complete Smiles we provide ZOOM! In Surgery & take Home Whitening Kits.
ZOOM! is the world's number one light-activated Whitening System. In just one hour, your smile can be up to 8 shades whiter, giving your self-confidence and appearance an immediate and long lasting boost.
During your treatment, the ZOOM! Whitening Gel is carefully applied to your teeth. The Whitening Gel is then activated by the ZOOM! gentle light for 15 minutes. This process is then repeated twice more before you go home with a sparkling white smile. During this time you can sit back, relax and enjoy your visit.
Whiten and brighten up your smile in the comfort of your own home, with our range of Home Whitening Systems. We will take an impression of your teeth, which is then used to create customised trays. Twice a day for 7 to 10 days the patient places the required amount of bleaching agent on the trays and inserts it into their mouth. This system is very effective and will whiten your teeth gradually over the treatment time.
But why have my teeth become discoloured in the first place?
There are many different causes for tooth discolouration. These include ageing, coffee, tea, red wine, tobacco, and certain types of medication, such as tetracycline. All of these can contribute to your teeth not looking as white and bright as they should.
Teeth Whitening can transform ageing and discolouration into a striking smile.
They are thin but hard, tooth coloured porcelain shells that are custom made to bond to the front surface of your teeth.
Improve colour of teeth
Close spaces between teeth
Enhance shape of teeth
Amend the length or size of teeth
Realign crooked teeth
Maintain your natural tooth structure
Will not stain teeth from coffee or tea
Custom colour shading is available
Veneers are a simple procedure, which is a more conservative alternative to Crowns and also a stronger, longer lasting alternative to Bonding.
It is important that the teeth to be restored by Veneers are strong and healthy.
Regular fillings do not usually strengthen teeth. They simply replace decayed parts of the teeth. Teeth weakened by cavities can be strengthened and their appearance enhanced by Crowns. These are a more advanced treatment option constructed on precision, custom models in a laboratory.
Restore broken or fractured teeth
Strengthen Root Canal Teeth
Realign crooked teeth
Close gaps in teeth
Improve discolouration
Repair chips
Improve biting abilities
Amend damage from excessive grinding
For many years, traditional metal-based Crowns have been used to strengthen or rebuild teeth. Today, Porcelain Crowns are now an effective aesthetically pleasing option. They may be made to match the exact colour, texture and translucency as your natural teeth.
Bridges are permanent restorations which act to 'bridge' the gap between two healthy teeth.
A Bridge can fill a gap of up to four teeth if there are healthy natural teeth flanking the gap. The Bridge will replace your missing teeth and will appear entirely natural.
When a lost tooth is replaced with cemented bridgework, the teeth on either side of the missing one may be prepared as crowns to serve as abutments, to hold the bridge in place. This procedure usually takes two appointments to complete.
Bridges are a long term solution that can help prevent the cycle of problems that occur when just one tooth is missing, such as shifting and drifting of remaining teeth, decay and periodontal bone loss.
Bridges can also dramatically improve the appearance of your smile.
You may need a filling if you have a cavity or tooth decay. This is a hole in your tooth that has grown bigger and deeper over time. Cavities will occur if you do not brush and floss your teeth regularly. It is important to have cavities repaired as soon as possible to prevent further damage and save the tooth.
Many people have amalgam (silver) fillings that have progressively blackened over time and caused staining of the teeth. Although amalgam is a functional material it does have several disadvantages. The most obvious problem is its unsightly appearance.
Many people now choose to have their fillings replaced to achieve a natural appearance. Virtually invisible, White Fillings look just like your natural teeth so they will not distract away from your smile. Most cosmetic fillings are made from Composite Resin that can be placed in a single visit. Composite Resin Fillings are also bonded to the tooth surface, meaning the joins are sealed preventing further decay of the surrounding tooth structure.
Smile Makeovers can completely transform the health and appearance of your smile. They combine several Cosmetic Dentistry treatments to help you achieve the perfect smile. These treatments may include; Tooth Whitening, Porcelain Veneers, Porcelain Crowns, Dental Implants and many more.
Rejuvenate discoloured / stained teeth
Close or conceal gaps between teeth
Reduce overcrowding
Cover blemishes
Replace missing teeth
Repair cracks
Straighten crooked teeth
Improve appearance of gums
A Smile Makeover is your opportunity to start afresh – recapture your dental health and overall well-being while creating a stunning new smile.
It is the very best investment you can make in yourself.
A Dental Implant is a small titanium screw which is surgically placed into the upper or lower jaw bone. Over time the jawbone will attach itself to the Implant, enabling replacement teeth to be permanently fastened into place. The Implant then acts as an anchor for replacement teeth in the form of a Crown, Bridge or stabilized Denture.
Dental Implants do more than just restore your bite and the aesthetic appearance of your smile. When natural teeth are removed, many problems can occur. Missing teeth can have a dramatic negative impact on the surrounding gum tissue and can also lead to the deterioration of the jawbone. The remaining teeth may shift, rotate and become crooked. An improper bite may develop, making it very difficult to chew food properly. Spaces and gaps between teeth may cause embarrassment, problems with speech, and lack of self-esteem.
Dental Implants provide amazing benefits to patients. Implants are usually a very comfortable and effective replacement for teeth. They look and feel natural and can be expected to last for 20 years to life. They also provide amazing stability for patients, aiding with biting pressure as well as reducing irritation and ulcers that are often experienced by Denture wearers. Many people also experience a renewed confidence while speaking, enhanced self-esteem, improved facial appearance and a better overall attitude toward life.
Do you have a cracked tooth that needs repair? When you bite down, do you experience sharp pain? Do you avoid certain foods or chew only on one side of your mouth? If any of these scenarios sound familiar, you may require General Dentistry treatment.
Complete Smiles provide quality dental care in a comfortable and friendly environment using the most modern equipment and techniques available. We will work with you to achieve and maintain excellent dental health for life.
Oral surgery: extractions and removal of wisdom teeth
Prosthodontics: full dentures, partial dentures, and immediate dentures
Restorative dentistry: fillings, crowns, and bridges
Implants: replacing missing tooth/teeth, denture stabilisation
Endodontics: root canal treatments
Periodontics: gum treatment
At Complete Smiles, we believe prevention is always better than cure. We are committed to stopping dental decay and disease before it starts. That is why we provide our patients with a rigorous preventative dentistry program, of which treatments, x-rays, and cleanings are an integral part.
Providing complete care for the whole family, our aim is to bring your mouth into its ultimate healthy state and maintain this condition for the rest of your life. We want you and your family to feel great about your dental health care. Preventive Dentistry is beneficial to patients of all ages. It is never too early or too late to begin caring for your teeth.
Through Preventative Dentistry, we form a partnership with our patients to avoid cavities, tooth decay, and gum disease. Because of our efforts, many patients avoid having to undergo extensive dental work and enjoy healthy smiles throughout their lifetimes.
Children's teeth need to be looked after gently and carefully.
By the age of three most children will have all of their first primary teeth. The care and health of these teeth will also impact on the health of their permanent teeth. Your child's permanent teeth need to last a life time. Early intervention through regular dental visits will detect any problems, and allow your child's permanent teeth to come through straight and well-spaced.
The team at Complete Smiles will monitor your child's oral development ensuring teeth align and function correctly for total health and appearance.
Good oral hygiene combined with Children's Dentistry plays a very important part in the overall health of your child. Early Childhood Caries (ECC) is a disease which afflicts many children. These include baby bottle tooth decay, nursing caries, rampant caries, and sipper cup caries.
From around 2 years of age we recommend that you bring your child in for a visit. They will get to have a ride in the dental chair and find out more about their teeth. The Complete Smiles team will make your child feel right at home and help them to understand the importance of caring for their teeth. Your child's early dental experiences form their life approach to dental hygiene and care. By having routine check-ups at Complete Smiles from an early age, it can help to eliminate the fear of the Dentist and establish a good dental routine they can follow throughout their lives.